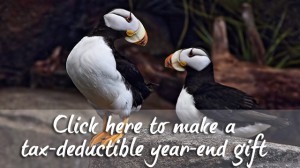 Dear Friends,
As 2014 comes to a close, our wildlife centers in California have cared for nearly 5,000 patients since January 1.
And every bird has a story.
Many of the animals we rescue live most of their lives far away from the human-inhabited world. Others are caught up in it (sometimes literally) and face a number of man-made threats to their existence. We do our very best every day to give these animals a second chance — to fly, to find a mate, to perpetuate their species for generations to come. This holiday season, we're thankful you've shared this mission by supporting International Bird Rescue.
Challenging as it was, we culled eight of the most memorable patient stories of the year for this holiday newsletter. Your year-end, tax-deductible contribution to International Bird Rescue will help ensure this work remains strong in 2015 and beyond.
Warmest wishes this holiday season,

Barbara Callahan
Interim Executive Director

A Patient the Size of a Cottonball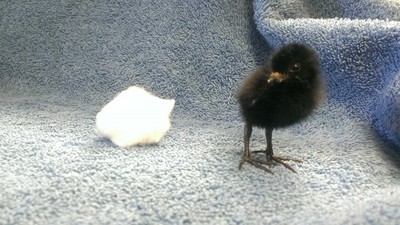 Black Rails are the Greta Garbos of the North American avian world: They just want to be alone. A threatened species in California, they're experts in hiding among marshland vegetation, and therefore rarely are seen.
So it came as a surprise that International Bird Rescue's San Francisco Bay center received several injured Black Rails during the course of the year, as well as our first orphaned baby Black Rail, literally the size of a cottonball. Black Rails are semi-precocial, meaning they are able to feed themselves soon after hatching. That proved to be the case for this chick, which needed feeding for the first few days but then began eating mealworms on its own (click here to view).
To help build scientific knowledge of this little-understood animal, we work with the Black Rail Project at the University of California-Berkeley, which banded this bird when it was old enough to be released into marsh habitat.
International Bird Rescue's team of experts is well-equipped to care for sensitive species – endangered, threatened or near threatened. These include the Marbled Murrelet, California Least Tern, Ashy Storm Petrel, Snowy Plover and Piping Plover.

Red the Pelican Flies Again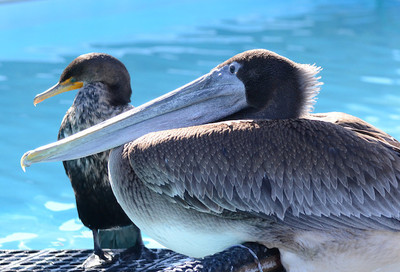 One of our longest rehabilitation cases is that of Red #308, a California Brown Pelican who spent well over a year in care for a condition all-too-common to these birds: fishing tackle-related injuries. You can read about this patient in an L.A. Times op-ed here.
Brought to our San Francisco Bay center as a hatch-year bird, Red (nicknamed for the color of his temporary leg band) had a horrible wound to his left patagium — a fold of skin on the leading edge of the wing — caused by an embedded fishing hook and monofilament fishing line. Over the course of many months, his injury slowly healed. But Red seemed unable (or uninterested) in flying. So we employed physical therapy and plenty of regular flying workouts, and in time Red was flying from high perch to high perch in the center's expansive pelican aviary.
Releasing Red in November at Ft. Baker, within a stone's throw of the Golden Gate Bridge, was an emotional milestone, one made possible by staff and volunteers' tireless work to save a Brown Pelican from an insidious environmental problem.
We're proud to see our work with this species prominently featured in the new documentary Pelican Dreams, now in theaters.

Curious Cases of Crash-Landed Grebes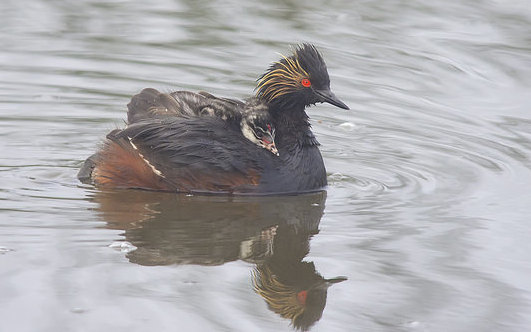 An LAX runway. The Mojave Desert. Union Station in downtown Los Angeles. This fall, Southern California residents have seen a large number of crash-landed grebes (pronounced "greebs") in urban areas and remote locations far from water.
Crash-landed birds are birds that have hit the ground and are unable to regain flight. For instance, the delightful Eared Grebe (shown here with chick in tow) can easily mistake pavement for water and often becomes grounded in parking lots and streets. Stuck in this predicament, these birds will end up dragging themselves across asphalt and concrete as they try to reach water. Unless captured, treated for their injuries and relocated to water, they don't survive. (View video of these animals in a diving bird pool here.)
This season, our Los Angeles center has cared for well over 100 crash-landed grebes, many of which were symbolically adopted thanks to our friends at The Port of Long Beach as well as devoted International Bird Rescue supporters.
Photo by Daniel Arndt/Flickr Creative Commons

Brown Boobies, Book-ending 2014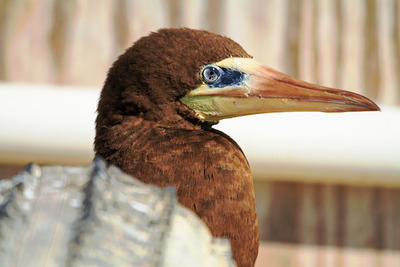 This year began and ended with Brown Boobies found far from their established ranges and treated by our animal care professionals. A large seabird that breeds in tropical and subtropical regions such as the Gulf of California, the Brown Booby is an uncommon visitor to the West Coast of the U.S. In January, our San Francisco Bay center cared for a Brown Booby found beached and emaciated at Point Reyes National Seashore. Following rehabilitation, the bird was released off the coast of Los Angeles, much closer to its normal range (you can see video of the release here).
Another Brown Booby recently was flown to our L.A. center from Alaska (3,000 miles out of range), where it was found injured on a fishing vessel. This bird remains in care and is no longer limping. We're very hopeful for an upcoming release!
The name "booby" is thought to be derived from the Spanish word bobo, or "stupid," given the species' tendency to land on ships where they were easily caught. Historical records show they were sometimes eaten by shipwrecked sailors on vessels including the Bounty. Whatever their intellectual capacities may be, these birds prove to be charming and charismatic patients!

A Bittersweet Release: Elegant Tern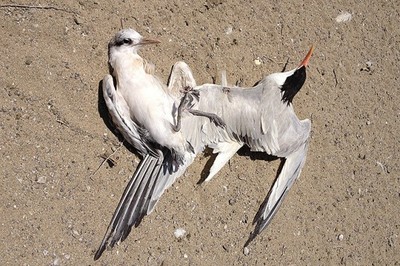 For every case ending in an awe-inspiring release, there's an animal whose injuries were just too much to bear.
Some stories are a mix of both.
Over the summer, our Los Angeles center team received an adult Elegant Tern and a tern chick hooked together by a multi-hook fishing lure.
Nick Liberato, a biologist who monitors a tern colony on nearby Terminal Island, found the birds and took this heartbreaking photo upon rescue. "I spotted them as I was ushering some stray chicks back through the chick fencing and into the main rookery," Liberato says. "At first, I thought they were just tangled in monofilament [fishing line], but when I saw that multi-hooked lure puncturing both of them, I knew my tools wouldn't cut it, so I got them over to you guys as quickly as possible."
Our rehabilitation team separated parent from chick and meticulously treated the severe wounds of both animals. Sadly, the tern's injuries had already become infected, and this baby bird did not survive. The parent bird healed remarkably after several weeks of care, and was released by our intern and volunteer team at Bolsa Chica Wetlands in Huntington Beach, CA. You can see a video of this bittersweet release here.
Photo by Nick Liberato

American Avocet, Viral Video Star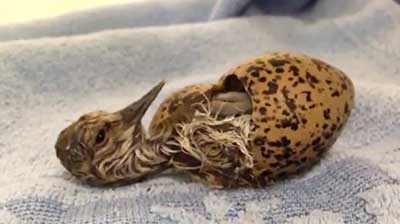 American Avocets are shorebirds common to the Pacific coast and sport a most-striking upturned bill that the bird uses to "sweep" through the water to catch small invertebrates. In June, an oil spill at a Los Angeles-area refinery caused a small colony of American Avocets to abandon their nests.
Twenty-one eggs were collected and sent to our L.A. center. Only one hatched, and video of this baby bird entering the world went viral on Facebook, with nearly 1 million views. (If you're not on our Facebook page, we recently posted it on Vimeo too.)
Thanks to eBird, a citizen science project that tracks bird populations, we identified an American Avocet flock in the Los Angeles River where this young bird was later released.

Pink the Pelican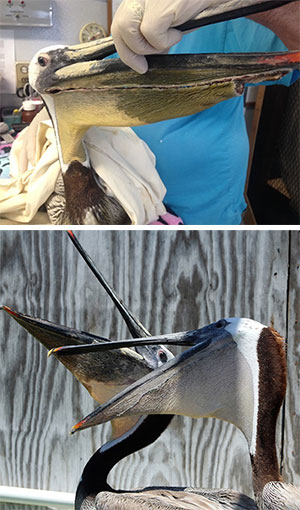 The story of "Pink," a California Brown Pelican and arguably one of the most famous patients in International Bird Rescue history, is one that begins with the worst of humankind, but ends with the best. In a saga followed by national media, Pink was starving as a result of a deliberate attack in which its pouch was slit completely by an individual or individuals who to this date remain at large.
Thankfully, pelicans are resilient animals and respond well to expert veterinary and rehabilitative care. International Bird Rescue's reputation in caring for pelicans is unmatched the world over.
This patient, who wore a pink temporary leg band while at our Los Angeles center (thus the bird's nickname in the news), was nursed back to health over the course of several weeks. When Pink was strong enough to withstand surgery, our veterinarian sewed his throat pouch back together — a feat requiring two operations and nearly 600 stitches.
Pink was released on the sunny afternoon of June 5, leaping from his crate and soaring above the waves as Catalina Island loomed in the distance. It was a new chapter of life for this wild bird, one that symbolizes everything we stand for as an organization. Contributions from the community and donors around the nation made Pink's care possible. We will always be grateful for the support, and we'll share any sightings of Pink should he be spotted in the wild. Pink has since traded his pink band for a blue one, reading V70.

Herons and Egrets vs. Urban Reality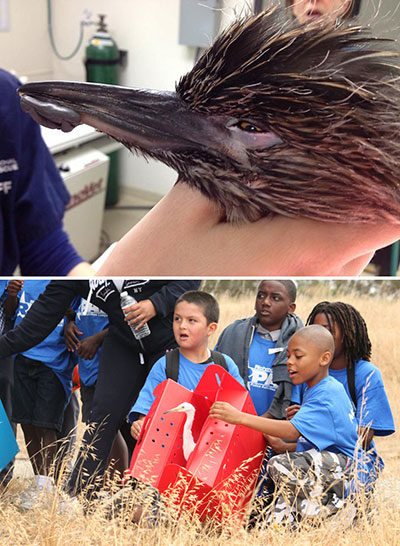 The alleged details of the crime screamed media circus: This spring, reports began to surface in Oakland, CA, that a landscaping crew hired by the U.S. Postal Service had trimmed trees where Black-crowned Night Herons were actively nesting. Parents fled, chicks fell to the ground and branches with nests were fed into a wood-chipper.
A federal investigation concluded that no baby birds had been killed via wood-chipper as originally rumored. But many sustained wounds from their fall, and were transported to our San Francisco Bay center, where they were treated for such injuries as broken mandibles.
International Bird Rescue stayed above the fray and indignation, however much we sympathized with the outrage that many bird lovers had. Our mission was simple and two-fold: one, to care for as many birds as we could, and two, to educate the public that spring is not the time to be trimming your trees for this very reason.
As part of our outreach, we invited the tree-trimmer responsible for the incident to our center for a first-hand look at these heron patients, as well as baby Snowy Egrets (shown below), which also often fall from nests and onto streets and sidewalks. It was a wonderful meeting, one accompanied by unprompted remuneration for the birds' care by this gentleman.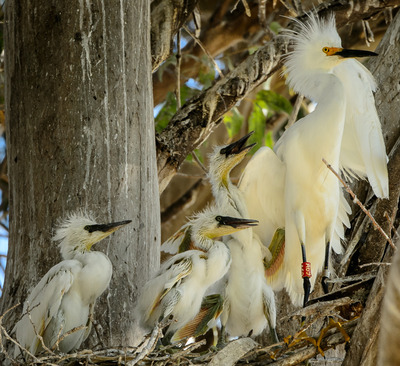 Our San Francisco Bay center, in conjunction with partner wildlife organizations and Audubon chapters, released hundreds of egrets and herons back into the wild during the spring and summer. Some of these releases involved local youth groups like the one you see here.
Saving wildlife, educating the public and inspiring young birdwatchers: Is it possible to have more fulfilling work? We think not. We are International Bird Rescue, and we're so thankful for your support.
Snowy Egret photo © Silvermans Photography