Dear fellow bird lover,
Our first baby ducking showed up this week, signaling the start of beautiful and busy spring.
It's already been a busy winter and we cared for hundreds of seabirds affected by the "mystery goo" event in San Francisco Bay. More than 160 of those birds have been cleaned and returned the wild.
Without a responsible party, we funded this extraordinary response with contributions from the public – bird lovers like you, who believe wildlife needs more support than ever, and they're right!
To help us continue our "Every Bird Matters" programs we are asking all our supporters to join through our Spring Membership Drive. This will insure that we have funds to meet the need of thousands of baby birds that will flood our two California centers. Our goal is $20,000 for this drive.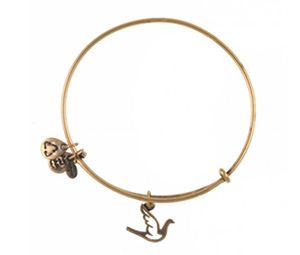 A wonderful donor has offered to match, dollar for dollar, any donations up to $10,000! What a great way to make your donation go twice as far and help us continue to save thousands of sick, injured and orphaned birds this year!
We want to encourage monthly donors too, so we have special offer provided by ALEX AND ANI and their philanthropic division, CHARITY BY DESIGN. Supporters who become monthly donors will also receive the ALEX AND ANI 'Sacred Dove' charm bangle, a beautiful piece from the ALEX AND ANI collection. It's a wonderful way to show your support for the birds that inspire all of us every day. And you'll be an official member of our Seabird Circle. Your pledge of $15 a month or more as a sustaining member makes it all possible.
Or, you can make a single gift by clicking here. Whatever the level, all our supporters are bird rescue heroes.
We see evidence everyday that the environment is changing and we receive thousands of birds each year that are harmed by human impact, whether it is fishing line entanglement, urban encroachment or pollution. To quote our past director, Jay Holcomb, "When you stop caring for the individuals, you've stopped caring about the population".
Your gift is crucial to ensuring we continue to give world-class care to birds in need, including this Brown Pelican, injured by a gunshot to its wing and in care right now at our Los Angeles Center.
Thank you for your generosity and for helping us continue to help the birds.
With deepest gratitude,
Barbara Callahan
Interim Executive Director