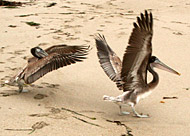 By becoming a Pelican Partner or adopting a bird you are saving lives and making a difference.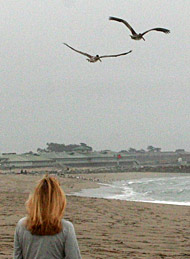 Years ago a friend told me she had asked her husband to stop buying expensive jewelry and other "things" for special occasions. What she wanted were experiences – memories.
The people who become Pelican Partners tell us that releasing their pelican was one of the most profoundly moving experiences of their life.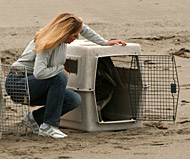 I chose to become a Pelican Partner as a way of celebrating my mother's life and her love for animals. Even though my work with Bird Rescue gave me the opportunity to release other birds back to the wild, the pelican I released in honor of my mother was the most memorable of my life. Now, instead of remembering the difficulty of my mother's passing, I remember my mom flying on the back of a pelican that majestically flew off with the two others that I had the privilege of releasing that day. It was a powerfully healing experience, one that I am forever grateful for that brings tears to my eyes to this day. Now when I see pelicans soaring overhead, I think about my mom and wonder if that is her pelican!
As a Pelican Partner, you also receive a behind-the-scenes tour of one of our wildlife hospitals. This VIP view into our work includes watching your pelican receive its federal leg band and blue leg band (with an easy to read number) that identify your pelican for life. Imagine the delight of spotting your pelican in the wild. Now that is a unique experience!
International Bird Rescue's Pelican Partnership is a very special way to honor someone you love. This year, give an experience of a lifetime that also helps save lives.
On behalf of all of us at International Bird Rescue, we wish you and yours a very joyous holiday season.
Karen Benzel
Public Affairs/Media Director
P.S. – Every donation matters to the thousands of seabirds needing care in our hospitals each year. Please remember to make your tax-deductible gift today!