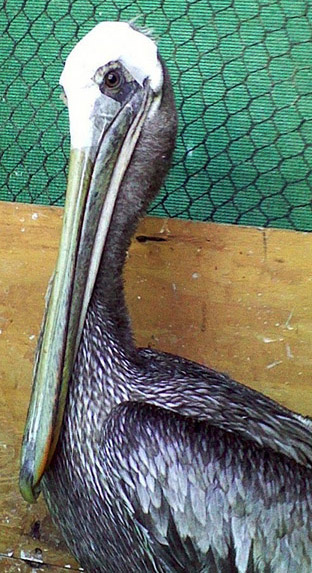 This adult Brown Pelican came to us with multiple fish hooks stuck in its jaw and wing. It made an amazing recovery.
We are continually amazed by the sheer resilience of birds — animals often harmed by human causes, and therefore in need of human care.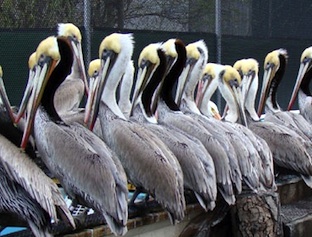 Record-setting numbers of birds needing care in 2012 has taxed our financial resources. Your generous donation helps keep our doors open to ALL birds.
Dear Supporter,
Every day of the year, International Bird Rescue receives and cares for injured and sick aquatic birds suffering from a host of problems.
Now and then, we witness a miraculous story. A story of tenacity. A story of hope.
And this kind of story doesn't happen without you.
In October, an adult pelican was brought to our Southern California Wildlife Center with a large fishing lure hooked to both his jaw and right wing. Once our staff freed this beautiful bird from multiple hooks, our veterinarian, Dr. Duerr, performed an examination under anesthesia and discovered just how bad the infected facial wound really was. A jaw this damaged could render a bird that must plunge dive at rapid speed for its food unable to hunt — and therefore to survive. The outlook was grim. Read: Blog post
But we are continually amazed by the sheer resilience of birds — animals often harmed by human causes, and therefore in need of human care. We see heavily oiled common murres come back to life with careful washing. Loons, ducks and petrels that crash into high-rises or lighthouses once again take flight after wing wraps and a little TLC. Even wayward albatrosses and tropicbirds find their course back into the deep ocean with our help.
This pelican hadn't given up. He was eating well, keeping his bill in alignment, even snapping aggressively at us like a normal, spirited pelican should! So Dr. Duerr and staff decided to give the bird a chance and strategized a plan to help him recover.
It wasn't easy: The pelican needed to use his mouth as normally as possible while healing, so bandaging and wound care were a challenge. But with careful treatment, the wound had reduced remarkably within weeks and could be closed with stitches. Until then, he had to be kept out of the water. Now he could finally go for a swim and join the other pelicans in our large pelican aviary. A wonderful sight.
On November 1st, Dr. Duerr re-examined him. The injury was completely healed, and there was no evidence that the remaining muscles and bones of his jaw had further problems. The pelican had excellent range of motion of the joint and was snapping his beak at staff and volunteers with vigor. All medications were discontinued, and he continued to be fed and observed while gaining strength.
What was it about this particular bird? He came to our hospital in horrible condition, as so many others do, from a cause that wasn't inflicted upon him by nature, but by humanity. Something in this bird offered hope. Matched in tenacity by the staff that cared for him, this pelican beat the odds and not only survived, but thrived. Over 900 pelicans were admitted to our hospitals this year, a record for us. Pelicans and other aquatic birds are important to all of us because they are critical indicators of ocean health. And every day, we see how they're affected by environmental problems when they're brought to our hospitals by people like you, people who care about what happens to them. Helping them now ensures the conservation and protection of these species for generations to come.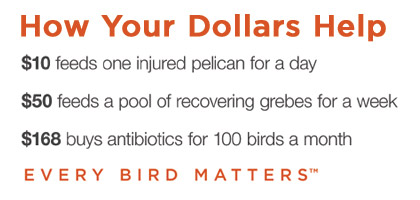 Each dollar you give is critical. Your support provides dinner-bowls of fish, essential antibiotics, water to fill our hospital pools, bandages, x-rays and expert care to every bird that comes through our doors. Record-setting numbers of birds needing care this year taxed our financial resources. Our commitment to "never close our doors to any aquatic bird in need" is in jeopardy. In order to continue to provide expert care, an open door policy and hope for these birds we are asking you to donate generously today. Your investment in Bird Rescue ensures that this level of expert care is always available in any emergency.
We cannot do it without you. Please become a member today. Annual membership provides us with the ongoing financial security to operate our programs. Give a gift of membership to someone you love.
The pelican in our story will return to nature, to be wild and free again. Watching any bird being released from care back to the wild is a profound and deeply moving experience. It is why we care for over 5,000 birds each year. Every now and then, there is a bird that reminds us in a compelling way of a greater lesson. Sometimes, even in the most hopeless situations, there comes a faint glimmer that compels you to press on and rise to a challenge. As Emily Dickinson said, "Hope is the thing with feathers."
With deep gratitude and best wishes for a joyful holiday season,

Jay Holcomb
Director
International Bird Rescue
P.S. – There are many ways you can help the birds at International Bird Rescue. Please consider adopting a pelican or one of our other seabirds that needs your help. As always, your gifts are tax-deductible.