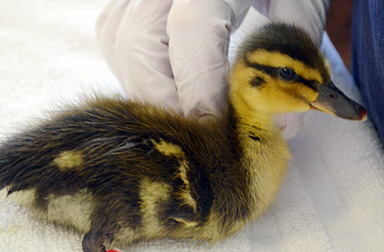 Dear friend,
Every year at about this time, our wildlife care centers prepare for the first orphaned wild ducklings of spring.
And without exception, these precious young birds arrive at our doorstep — sometimes by the hundreds. Last year alone, IBR received 2,000 orphaned wild ducklings.
On March 26, our San Francisco Bay center staff received its first mallard duckling from Lake Temescal in Oakland. It had been separated from its mom and was being attacked by an adult duck.
There are many reasons why large numbers of orphaned ducklings end up at our centers. Many mother ducks see landscaped yards as prime nesting spots. Once hatched, mother ducks must walk their babies to the closest available water. In that initial and important first journey, they meet cars, dogs, people, steep gutters, storm drains and wild predators. Many ducklings become separated and stranded and attempts to reunite them with their panicked mother are often futile. They end up at one of our centers.
This video of a highway patrolman stopping rush-hour traffic on California's Interstate 5 as a mother duck and her babies attempted to cross the freeway emphasizes the challenges that they face.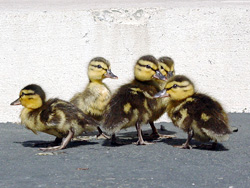 These ducklings and other young birds need food, warmth, shelter and sometimes medical care for illness or injury.
How can you help? For just $25, an honorary adoption of an orphaned duckling can make a big difference in the lives of these young birds. Or, for just $75, you can symbolically adopt a clutch of ducklings.
As our centers fill with orphaned birds this season, we are looking for 100 bird-loving adopters to step forward in the next week. Will you be one of them? Can you help us pass the word along to others who want to join us as well?
With your adoption gift, we'll email you a beautiful, official International Bird Rescue adoption certificate, suitable for full-page printing and framing.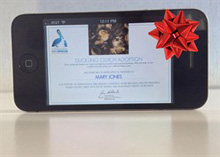 You can also give an adoption as a gift: We can also send a PDF adoption certificate with your gift recipient's name and a personalized message. It looks great on a smartphone, iPad or other personal devices!
International Bird Rescue is a non-profit 501(c)(3) organization. Your gift is tax-deductible to the fullest extent permitted by law.
Together, let's help these young birds in need. Click here to get started.
Sincerely,
Jay Holcomb
Director, International Bird Rescue
PS- If you find an injured or orphaned bird please call 1-866-WILD-911. This free service will help you locate the nearest wildlife rehabilitation organization to help you.